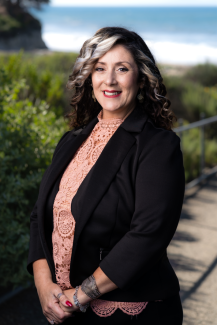 Administrative Assistant
she/hers
Student Resource Building
(805) 893-4613
Charisa has been with care since 2019 and is the main point of contact for all incoming calls, referrals, emails and appointment requests. Charisa strives daily to provide a warm, welcoming environment where survivors feel heard, validated and supported in confidentiality seeking resources. Healing is what Charisa is most passionate about and shares her excitement to be in a workplace that believes in creating a space where survivors are supported in healing at their own pace. Particularly aware of the sensitivity and nature of interpersonal violence, Charisa approaches every situation with utmost empathy and compassion.

Charisa is a confidential resource and is available through CARE's main line 805-893-4613 Monday - Friday 9am - 5pm Charisa has worked advocating for individuals for over a decade with an array of experience from hospice & elderly to children and individuals with disabilities, predominantly mental and behavioral health. Inspired by witness to so much individual resiliency Charisa noticed one thing: All healing starts at the root, it comes from within. Charisa's passion for healing has awarded her with titles such as Angelic Reiki Master & Access Consciousness Practitioner.
What Charisa likes to do outside of her work at CARE: Outside of CARE you can find Charisa caring for animals at the local wildlife center as she pursues her apprenticeship to become Master Falconer .