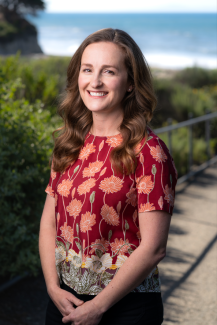 Senior Advocate
she/hers
Student Resource Building
B.A. Child Development, Tufts University
M.S.W., UC Berkeley

Jamie works every day with survivors of dating/domestic violence, sexual violence, and stalking, and with those who help to provide a caring community of support for survivors here at UCSB. Jamie is constantly fueled by the resilience and strength of the survivors who she works with, and by the passion and commitment of all who work to create a culture free from violence.

Before coming back to her hometown to join the CARE team, Jamie worked in organizations from Boston to San Francisco supporting survivors, engaging communities in prevention education, and improving medical and social service providers' responses to interpersonal violence.