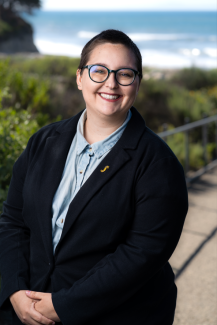 Associate Director of Survivor Support
she/hers
Student Resource Building
B.A. Sociology, Minor: Legal Studies, University of California, Santa Cruz
M.S.W. Rutgers University

Julia is extremely passionate about working directly with survivors and their loved ones in finding new paths to healing after an experience of violence. Supporting survivors at the intersections of their identities and survivorship, is an important element in Julia's work, and being an active witness to the strength and the resiliency of the human spirit is what keeps bringing her back to this work each day.
Julia has been passionate about working with survivors ever since she was an undergraduate student prevention educator at UC Santa Cruz, and worked as an on-call advocate at Monarch Services of Santa Cruz County. While earning her Masters of Social Work degree at Rutgers University in New Jersey, Julia worked at both the campus LGBTQ center and the on campus survivor support center. The work at UCSB for the past 3 years has brought her such love and passion in advocating for systematic change and justice for survivors as a collective.
What Julia likes to do outside of her work at CARE: "I love to create through crafts such as knitting and crocheting, and when it's safe to do so, I love taking myself out on dates to new local coffee shops, and I am trying to learn to roller skate."